Even Asamoah Gyan was removed – Spio Garbrah slams NDC supporters opposed to Haruna Iddrisu's removal
ghanaeducation.org
Jan 27, 2023 6:17 AM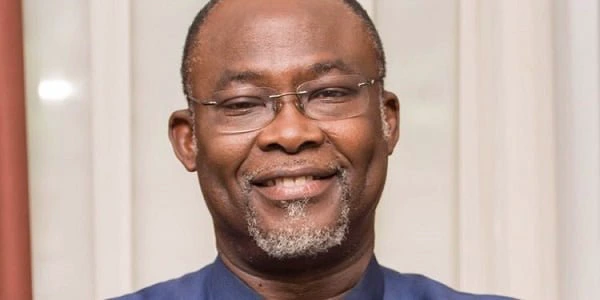 Ekwow Spio Garbrah, a former Minister of Trade and Industry has lashed out at some supporters of the National Democratic Congress over what he deems to be false self-entitlement on their part.
Spio Garbrah is particularly unhappy with the reaction of some members of the party in Tamale over the removal of Haruna Iddrisu as Minority Leader.
The leading member of the NDC says that the conduct of those members of the party is fuelled by the misconception that they enjoy some special benefits when they have someone from their town or region in position.
He reminded them that whereas they may be excited that their own has been appointed, members of the party may be unhappy with the decision but that does not mean they go out on the street and protest.
He said that at any point in time, it is the interest of the party that reigns supreme and not the parochial interest of a selected few.
He likened the situation with Haruna Iddrisu to that of former captain Asamoah Gyan, warning that just as Gyan despite decades of service to the country was removed, Haruna was always going to be removed at some point.
https://www.google.com/afs/ads?psid=5134551505&channel=AutoRsVariant&fexp=44778204%2C21404&client=pub-1883810847636355&r=m&sct=ID%3D8d48dfc20b4fbbe2%3AT%3D1663995891%3AS%3DALNI_MYBQ_1mRlbaYMdncuO4-jaN5s_Fpg&sc_status=6&hl=en&rpbu=http%3A%2F%2Fgoogle.com&rpqp=q&type=3&rs_tt=c&oe=UTF-8&ie=UTF-8&format=r5&nocache=3271674801037402&num=0&output=afd_ads&domain_name=cdn-af.feednews.com&v=3&bsl=10&pac=0&u_his=2&u_tz=0&dt=1674801037408&u_w=360&u_h=806&biw=360&bih=674&psw=360&psh=4351&frm=0&cl=503972142&uio=-&cont=autors-container-0&jsid=csa&jsv=503972142&rurl=https%3A%2F%2Fcdn-af.feednews.com%2Fnews%2Fdetail%2F64e2c32592a7decea2d94823eeab5a9e%3Ffeatures%3D2114057%26country%3Dgh%26uid%3D08c1e53bf8ea5f4e83fb533f6407a12207298822%26like_count%3D0%26client%3Dmini%26language%3Den&adbw=master-1%3A318
"Some of them believe that when their MP is in a position it inures to their advantage but they need to think about the future of the party. The people from the North will claim that they've lost some position but our flagbearer for the past ten years is from the north. The Voltarians have not complained about it. There have been no complaints from the Western and Ashanti caucus so they need to understand that it's just time.
"The Council of Elders chairman is from the North as well, so they are well represented. Losing one person doesn't change anything. He is still in Parliament so we can use his experience.
"Asamoah Gyan does not play football any longer. He is no longer team captain, does it mean someone has done him something wrong. There comes at a time when there need to be changes in position. If you are in a team and the coach rings changes, it doesn't mean the manager is against you. It just means the manager wants the progress of the team," he told Sompa FM.
General Secretary of the NDC on January 23 sent a letter to the Speaker of Parliament, Alban Bagbin, in which he disclosed some changes in its leadership in parliament.
A former deputy Minister of Finance, Dr. Cassiel Ato Forson, has been appointed as the Minority Leader, as replacement for Haruna Iddrisu.
Emmanuel Armah-Kofi Buah has also been named as the new deputy Minority Chief Whip. Kwame Agbodza takes over as Chief Whip. Ahmed Ibrahim, MP for Banda, has been maintained as the first deputy Minority Chief Whip, while Comfort Doyo Cudjoe-Ghansah, MP for Ada, is the second deputy Minority Chief Whip.
The announcement has highlighted the deep cracks in the minority with entrenched position for and against the move by the National Executive Council.
Source: Ghanaweb
SEND A STORY: Do you have a story for us or need a promotion/advertisement? Submit them via our email admin@ghanaeducation.org
DOWNLOAD OUR>>> MOBILE APP
Facebook Group> [JOIN Facebook]
JOIN OUR EDUCATION NEWS-GROUP (WHATSAPP)
Join just one of our Whatsapp/Telegram Groups for current Ghana Education Service News Updates:
JOIN ONLY ONE… THANKS – IF YOU JOIN MORE THAN ONE, WE SHALL RMEOVE YOU FROM ALL.
TELEGRAM PAGE >>> [JOIN]
Group 1 >>New Group> [JOIN]
Group 2 >>New Group> [JOIN]
Group 3 >>New Group> [JOIN]
Group 4 >>New Group> [JOIN]
Group 5 >>New Group> [JOIN]
Facebook Group> [JOIN Facebook]
TELEGRAM PAGE >>> [JOIN]
Only websites that give us a URL backlink can repost our content on their sites.

How to Build a Winning Remote-First CultureRemote Health by SafetyWing
Experts have revealed the secret, a cheap remedy for joint pain.Joints Health
How To Play the US Megamillion One Billion Jackpot from Your Mobile?24lottosPlay Now
Are You From Ghana? A Work From Home Job Might Pay More Than You ThinkWork from Home | Search Ads
Sponsored Linkshttps://s.adx.opera.com/aframe
null
Unmute