2 Female University Students Filmed Fighting Over A Chair During Lectures, Video Stirs Reaction
Yen.com.gh
Jan 26, 2023 2:08 PM
A video of two female university students struggling over a chair during lecturers has caused a stir online
Apparently, one of the students felt she had been cheated as the rightful person to have sat on the chair during the lecture
Netizens who saw the video were stunned by the actions of the two students with some saying they might be freshers
PAY ATTENTION: Enjoy reading our stories? Join YEN.com.gh's Telegram channel for more!
Two university students have gone viral after they were filmed struggling over a chair during lectures.
A video sighted by YEN.com.gh on the Instagram page of calvinisworldwide, captured a moment where one student was forcefully trying to unseat another female student during a lecture.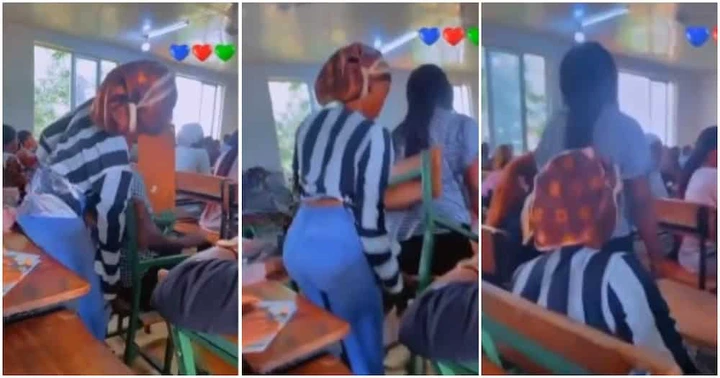 In the video, the lady whose seat was being taken was heard prompting the lecturer about what was going on. However, the other lady would have none of that and remained poised on having that seat, something she eventually did.
The awkward scene plunged the class into disarray as other students for a moment turned their attention to what was happening.
PAY ATTENTION: Follow us on Instagram – get the most important news directly in your favourite app!
Comments from other students seem to suggest that, the aggressive young lady was right in her actions because she was the one who was initially on that seat
Ghanaians react to their behaviour
Netizens who saw the video expressed shock at the behaviour of the two students with many wondering how such an incident could happen in the midst of an ongoing lecture.
Others also suggested they might be freshers hence such a behaviour.
fresh from shs
big.denzil:
No wonder I left ghana very early ,hmm our future leaders
son.of.david1:
them take this nonsense grow up right from JHS to SHS and they are spitting it into the UNIs
gyekum_soba:
I don't know the campus but I believe this is UDS
sunnie.ebrahyeem:
Is a problem, the school has to work towards.
https://www.instagram.com/p/Cn2TI6PjpGQ/embed/captioned/?cr=1&v=7&wp=656&rd=https%3A%2F%2Fcdn-af.feednews.com&rp=%2Fnews%2Fdetail%2F334845ccdb3df86b3708636218f6a02e%3Ffeatures%3D2114057%26country%3Dgh%26uid%3D08c1e53bf8ea5f4e83fb533f6407a12207298822%26like_count%3D1%26client%3Dmini%26language%3Den#%7B%22ci%22%3A0%2C%22os%22%3A4664.200000000186%7D
UCC fresher pledges to get good grades
Previously YEN.com.gh reported that a first-year undergraduate student at the University of Cape Coast has vowed to send a strong signal to naysayers by making good grades.
In a video sighted by YEN.com.gh on TikTok, the young lady @kerstine_hayford revealed that people have questioned why she remains so fixated on making vlogs about her experiences at the university.
She said some people have even gone as far as asking why she is pursuing a university education at this point in her life.

How to Build a Winning Remote-First CultureRemote Health by SafetyWing
Experts have revealed the secret, a cheap remedy for joint pain.Joints Health
How To Play the US Megamillion One Billion Jackpot from Your Mobile?24lottosPlay Now
Legon: Unsold Couches May Be Distributed at Lower Prices than BeforeCouches & Sofas | Search Ads
Sponsored Linkshttps://s.adx.opera.com/aframe
Unmute