Supreme Court hasn't ruled that a person can use two different names – Kwaku Azar
MyNewsGH
Jan 23, 2023 7:56 AM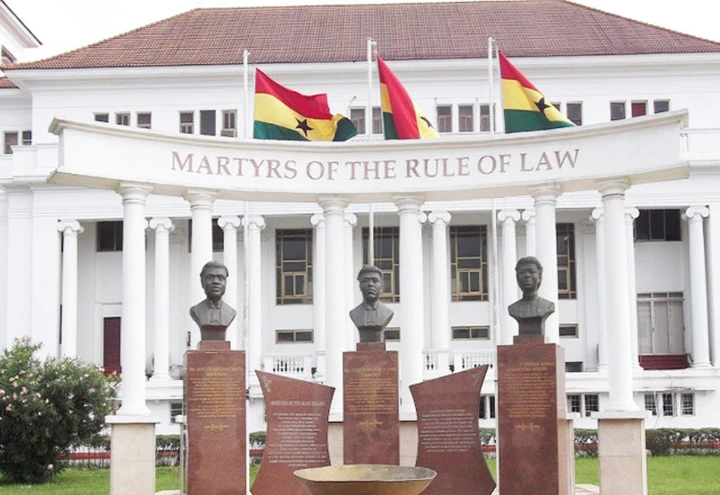 Democracy and Development (D&D) Fellow in Public Law and Justice at Ghana Centre for Democratic Development ( CDD-Ghana) Professor Stephen Kweku Asare alias Kwaku Azar has debunked assertions by some persons that there is a Supreme Court ruling that says that an individual can use two different names in an official capacity interchangeably.
Prof Asare, a lawyer and KPMG Professor in Accounting at the Fisher School of Accounting, University of Florida, is categorical that the law does not permit one to use two different names interchangeably in dealings with the Government.
The SC has not said that you can use different names interchangeably on gov't documents," he asserted.
https://www.google.com/afs/ads?psid=5134551505&channel=AutoRsVariant&fexp=44778204%2C21404%2C17300003&client=pub-1883810847636355&r=m&sct=ID%3D8d48dfc20b4fbbe2%3AT%3D1663995891%3AS%3DALNI_MYBQ_1mRlbaYMdncuO4-jaN5s_Fpg&sc_status=6&hl=en&rpbu=http%3A%2F%2Fgoogle.com&rpqp=q&type=3&rs_tt=c&oe=UTF-8&ie=UTF-8&format=r5&nocache=8641674465182445&num=0&output=afd_ads&domain_name=cdn-af.feednews.com&v=3&bsl=10&pac=0&u_his=2&u_tz=0&dt=1674465182450&u_w=360&u_h=806&biw=360&bih=674&psw=360&psh=3401&frm=0&cl=502576190&uio=-&cont=autors-container-0&jsid=csa&jsv=502576190&rurl=https%3A%2F%2Fcdn-af.feednews.com%2Fnews%2Fdetail%2Fc1e51fba0b6170d052ee24b106a0c16a%3Ffeatures%3D2114057%26country%3Dgh%26uid%3D08c1e53bf8ea5f4e83fb533f6407a12207298822%26like_count%3D2%26client%3Dmini%26language%3Den&adbw=master-1%3A318
Following an exposé by North Tongu Member of Parliament (MP) Samuel Okudzeto Ablakwa that Secretary to the Board of Trustees of the National Cathedral has two different names – Kwabena Adu Gyamfi and Victor Kusi Boateng – which he uses interchangeably in his dealings with Government, several people such as journalist Paul Adom-Otchere and NPP Communicator Miracles Aboagye have sought to argue using a supposed Supreme Court ruling that one can bear two different names officially.
But Prof Asare has argued that there is no such ruling.
The Supreme Court ruling they have sought to rely upon to justify Rev Kusi Boateng's double identity involved someone who had acquired a piece of land in his native name and later bore a name different from the native name. When the Supreme Court established that he was one and the same person, it ruled that it was not illegal to acquire land in a native name and change one's name later if there is no criminal intent.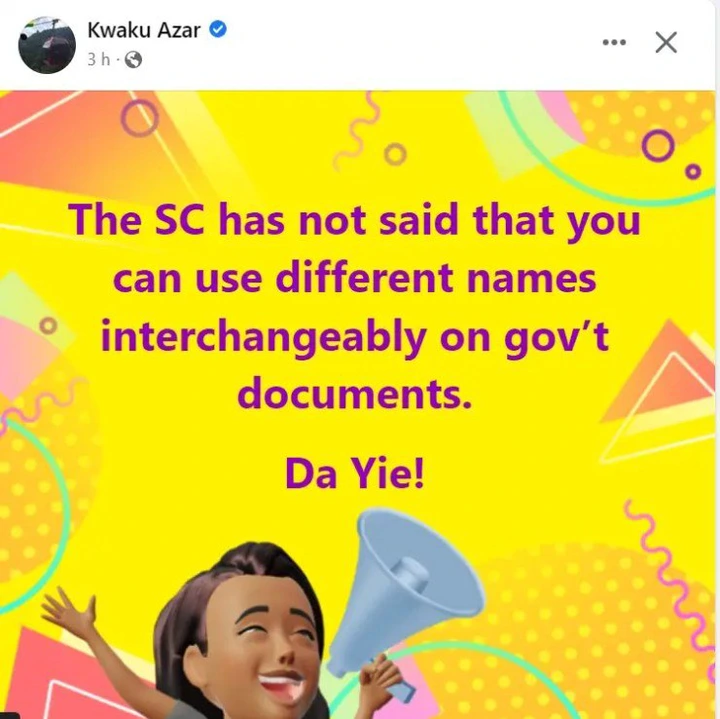 Thanks for reading from MyNewsGH as a news publishing website from Ghana. You are free to share this story via the various social media platforms and follow us on; Facebook, Twitter, Instagram etc.
Send your news stories to [email protected] and via WhatsApp on +233 202452509

How to Build a Winning Remote-First CultureRemote Health by SafetyWing
Do You Speak English? Work a USA Job From Home in GhanaUSA Work | Search Ads
Cloud Storage Services Might Surprise YouCloud Storage Services | Search Ads
Do You Speak English? Work a USA Job From Home Work from Home | Search
Sponsored Linkshttps://s.adx.opera.com/aframe
null
https://googleads.g.doubleclick.net/pagead/html/r20230118/r20110914/zrt_lookup.html?fsb=1#RS-1-&adk=1812271802&client=ca-pub-1883810847636355&fa=2&ifi=5&uci=a!5&btvi=2&xpc=7FK1CWGrQg&p=https%3A//cdn-af.feednews.com
Unmute