Nat'l Cathedral's GHS2.6m to JNS: Your petition receiving attention – CHRAJ to Ablakwa
classfmonline.com
Jan 19, 2023 8:20 AM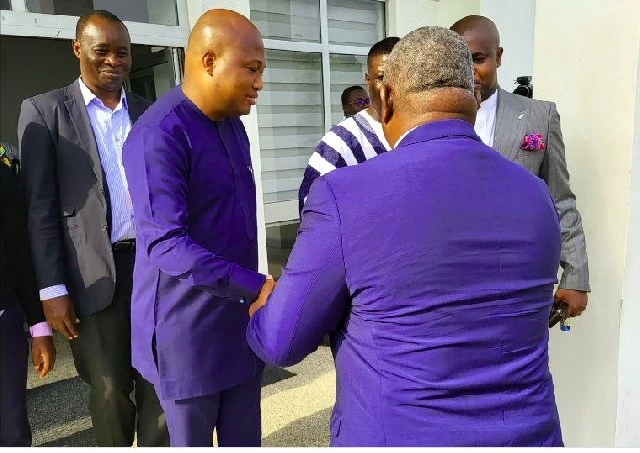 The Commission on Human Rights and Administrative Justice (CHRAJ), has acknowledged receipt of a petition filed by Member of Parliament for North Tongu, Samuel Okudzeto Ablakwa, for it to probe state funds paid to JNS Talent Centre Limited by the National Cathedral Secretariat.
Mr Ablakwa made the complaint on 16 January 2023.
A letter from CHRAJ dated 18 January 2023, signed by Stephen Azantilow, Director, Anti-Corruption, and addressed to the MP said the petition is "receiving attention."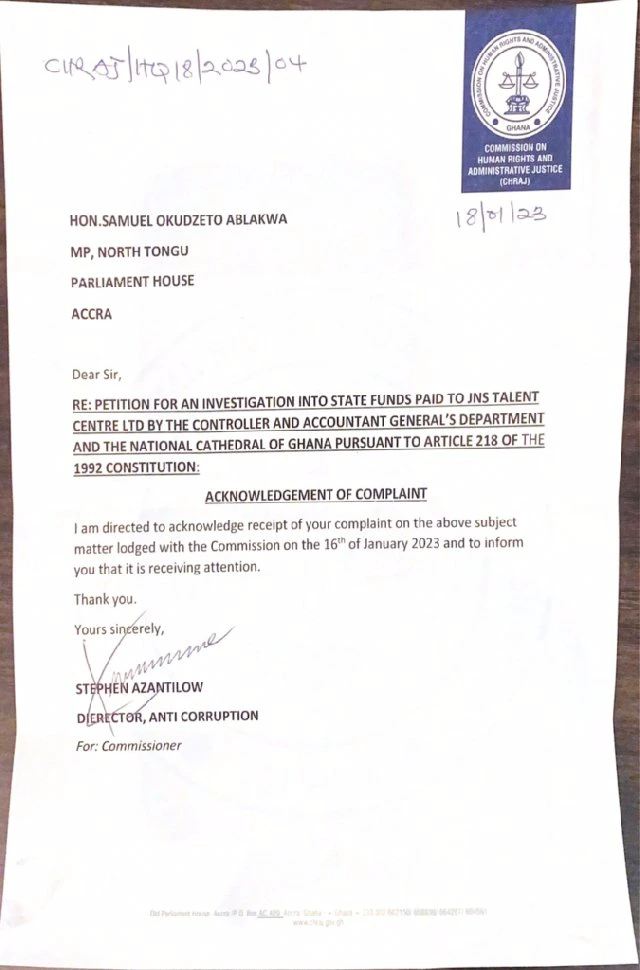 Mr Ablakwa had disclosed that the National Cathedral Secretariat had transferred a cash sum of GHS2.6million to JNS Talent Centre Limited for no work done.
The directors of the company, he said were Johannes Eshun, Sheila Eshun and Kwabena Adu Gyamfi.
In a Facebook post on Monday, 16 January 2023, the North Tongu legislator disclosed that "there is no distinct Kwabena Adu Gyamfi. Kwabena Adu Gyamfi is a criminal creation of Rev. Victor Kusi-Boateng. The two are therefore one and the same."
"Rev. Kwabena Kusi-Boateng AKA Kwabena Adu Gyamfi sat on the Cathedral board and literally paid his own company a staggering GHS2.6million for no work done," he said.
Rev. Kusi-Boateng is a member of the cathedral board.
Mr Ablakwa wants CHRAJ to investigate the said payment for conflict of interest.
Meanwhile, the National Cathedral Secretariat has denied any wrong doing.
The Secretariat said the GHS2.6 million paid JNS Talent Centre Limited was a refund to the company owned by Rev Kusi Boateng which was used to secure an interest-free loan.
Rev Kusi Boateng has also said he will cooperate with CHRAJ's investigation, but has threatened to sue Mr Ablakwa for defamation.

How to Build a Winning Remote-First CultureRemote Health by SafetyWing
How To Play the US Megamillion $1 Billion Jackpot from Your Mobile?24lottosPlay Now
Ghana: Earn Money OnlineEarn Online | Search
The Prices of Unsold Laptops Might Surprise You (See Prices)Unsold Laptops | Search Ads
Sponsored Linkshttps://s.adx.opera.com/aframe
Unmute