Govt blackmailing investors – Adongo
AdomOnline.com
Jan 17, 2023 2:51 PM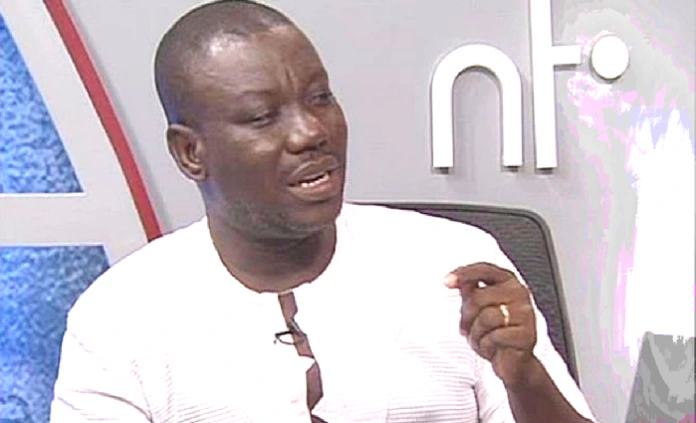 Member of Parliament(MP) for Bolgatanga Central Constituency, Isaac Adongo, has accused government of blackmailing bondholders.
He claimed that investors know they have to comply with government's directive in order not to lose their investments.
"But first of all, they're blackmailing these investors with fear-mongering. Gabby says that your bonds may potentially be worth nothing if you don't exchange. And then two, if you go to court you won't win because if the court gives judgment Ghana is like a man of straw he cannot pay and we don't take a man of straw to court.
"So the investors know that in order to help this country of straw, something must give in order that they can recover their monies over time," he said on Accra-based Metro TV.
He added that: "The banks know that it is better to work with government to arrive at a solution that preserves their business, that helps government to pay and that helps the economy to stabilise."
He cautioned government to reconsider its decision by following the right procedures for the debt restructuring.
"There are international standards for addressing these matters and those standards have been used in other countries successfully, but we say no we are doing ours with arrogance, we won't engage anybody," he fumed.
"I will help you with this document produced by the Ghana Association of Bankers which is the perspective of Debt Instrument restructuring in Jamaica, a very successful example of an IMF-driven Debt Restructuring in Jamaica.
"There's another one which is the Barbadian example of how they restructured their debt and the kind of structures they put in place to ensure seamless 100% acceptance of the Debt Exchange Programme.
"So we're [investors] simply saying government needs to listen in order that we [investors] can engage in the processes that will lead to a result for all of us," he concluded.
Meanwhile, the Minority in Parliament has called for the immediate suspension of the government's Domestic Debt Exchange (DDE) Programme.
The Minority Leader, who addressed a press briefing on Monday, said they expect a comprehensive engagement between government and relevant stakeholders as well as the citizenry at large.
The Caucus is, therefore, set to embark on nationwide roadshows to foster a deeper understanding of the Debt Exchange Programme.
The Pensioner Bondholders Forum has also threatened to picket at the Ministry of Finance on January 23, 2023, should government fail to exempt them from the Domestic Debt Exchange Programme.
The Government on Monday announced an extension of the Debt Exchange Programme to Tuesday, January 31, 2023.

People with hip and knee pain should know. Look!Medical News
How To Play the USA Mega Millions From Your Mobile?24lottosPlay Now
Cloud Storage Services Might Surprise YouCloud Storage Services | Search Ads
Invest in your future with a USA citizenship US Citizen Invest | Search ads