Why Is Databank Still Operating? . . . Shut It Down! – PPP Chairman Goes Wild On Securities Exchange Commission
ghanasummary.com
Jan 16, 2023 1:44 PM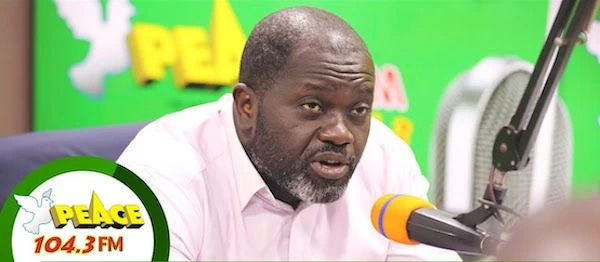 The National Chairman of the Progressive People's Party (PPP), Nana Ofori Owusu, has admonished the Securities Exchange Commission (SEC) to shut down Databank.Nana Ofori Owusu wondered why Databank is still operating following their challenges to protect the investments of their customers, hence incurring the wrath of their customers.The government late in December last year announced an amendment to the initial Domestic Debt Exchange programme (DDEP), under which individual bondholders are being asked to submit to a "voluntary" exchange of their domestic bonds for new bonds.Individual Bondholders' Forum (IBF), a voluntary group of individual bondholders have meanwhile kicked against this.Databank Closes OfficesLast year, some angry customers were said to have threatened the staff of Databank compelling them to resort to remote operations and working from home.The fund management company further announced a closure of its offices and remote work for its staff effective December 22, 2022 following the physical and verbal attacks on them by some of its clients.The company in an email to its clients said it had been affected by the liquidity challenges that have rocked the fund management industry owing to the "macro-economic crisis" facing the country."We are currently engaging with the Ministry of Finance, our Regulator (The Securities and Exchange Commission (SEC)), and the Ghana Securities Industry Association regarding the impact of the debt exchange on Databank's mutual funds as well as other Collective Investment Schemes," the email said.SEC To Support Databank The statement also indicated that "as part of these discussions, the SEC issued a notice to Market Operators (SEC/CIR/005/12/22) on December 9, 2022, indicating its intent to support the market with much-needed liquidity relief, including access to the Financial Stability Fund as a last resort"."Therefore, we are hopeful that once the Debt Exchange Program has been concluded (expected settlement date: January 5, 2023), we will be able to access the necessary funds to once again pay withdrawal requests.
We are totally reliant on the Government of Ghana to pay us, so we can in turn pay clients", it added.Collapse DatabankBut Nana Ofori Owusu has dissented to the SEC action to support Databank with the Stability Fund, questioning why they didn't create the same fund to cushion Gold Coast Securities, another fund management company, in 2019 before opting to shut it down when it was saddled with difficulties in resolving the plight of investors who placed funds with the company.SEC halting the operations of BlackShield Capital Management (formerly Gold Coast Securities) triggered angry reactions from the public but SEC Boss, Rev Daniel Ogbarmey Tetteh turned deaf ear to the management, customers and the public.Nana Ofori Owusu argued that at the time Gold Coast Securities' licence was revoked, it had invested 67 percent in government bonds and businesses but SEC went ahead to end their operations despite their pleas for time to address the problem of their investors. "Today, we are learning that the Finance Minister's company, Databank, has invested 90 percent of their money with government bonds and government securities.
So, you collapse one company for supporting government business, bonds and securities; contractors, local Ghanaian contractors, were given money and they completed the project.
They raise interim payment certificates, [some of them] about 8 of them, theirs were 30 million, some 50 million and others 5 million but [a company] one company has invested about GHC 4 billion in government securities and you're saying you won't pay the money and in not paying their money, you took away their licence."Now, Databank has come out to say they too are unable to pay investors their liquidity challenge but with them, it was 67 percent that they give into government bonds and securities.
They have used 90% of their portfolio to do government securities.
The safest investment is buying government bonds, investing in government business and if someone has invested 67% in government business, you question why he has invested so much of his portfolio in government business.
about:blank
"Now, some other person is telling you he has invested 90% in government bonds, you won't tell him it is too much…They should collapse Databank.

Place Your Bet Now For A Huge Msport Win! Fantastic Welcome Bonuses and Promotions That Are Fun!MSportSign Up
People with hip and knee pain should know. Look!Medical News
Register A Company in Canada OnlineBusiness Investment | Search Ads
Cloud Storage Services Might Surprise YouCloud Storage Services | Search Ads
Sponsored Linkshttps://s.adx.opera.com/aframe
null
Unmute