Pay Me Emoluments Equivalent To An Appeals Court Judge — SP Agyebeng Serves 'Final Notice'
MyNewsGH
Jan 9, 2023 6:57 AM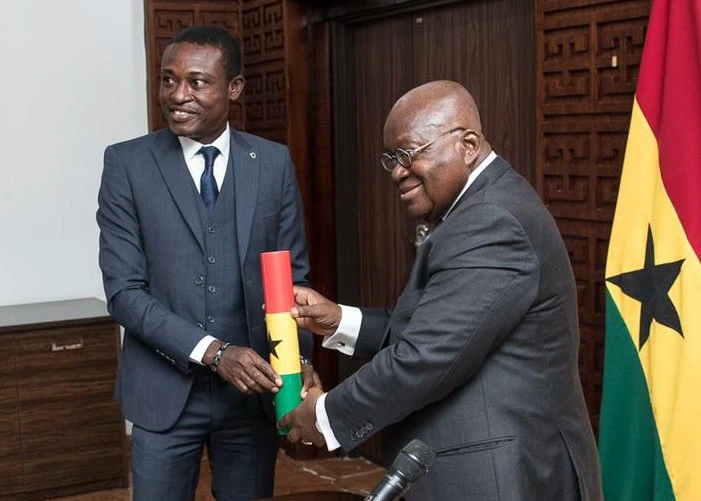 The Special Prosecutor Kissi Agyebeng has cautioned that the handling of his salaries and Emoluments is not encouraging, advising government not to treat his outfit and staff like "ordinary civil servants".
The Special Prosecutor is therefore demanding to be paid salaries, entitlements and emoluments equivalent to an Appeals Court Judge of the Republic of Ghana.
An earlier government source had hinted MyNewsGh.com how the SP is rejecting salaries offered him because it was lower than he expected while government is not paying his office staff because the SP recruited them "on table top" without approval.
But it appears the SP has legal backing for his claim to be paid the equivalent of what an Appeals Court Judge earns.
This, the SP argues, will be in line with the spirit and letter of the law establishing the office he occupies.
Kissi Agyebeng says he is entitled to emoluments stated in the Legislative Instrument establishing the office of the Special Prosecutor which makes his status above "an ordinary Civil Servant".
According to the SP, his salary is supposed to be pegged at the level of an Appeals Court Judge and the Deputy SP's salary pegged at the level of a High Court Judge.
Kissi Agyebeng who was earlier staying in a house of a private businessman linked to the PDS scandal has since come under scrutiny over his newly-constructed private residence at Agbogba.
https://www.google.com/afs/ads?psid=5134551505&channel=AutoRsVariant&fexp=44778204%2C21404%2C17300003&client=pub-1883810847636355&r=m&sct=ID%3D8d48dfc20b4fbbe2%3AT%3D1663995891%3AS%3DALNI_MYBQ_1mRlbaYMdncuO4-jaN5s_Fpg&sc_status=6&hl=en&type=3&rs_tt=c&oe=UTF-8&ie=UTF-8&format=r5&nocache=8061673254412091&num=0&output=afd_ads&domain_name=cdn-af.feednews.com&v=3&bsl=10&pac=0&u_his=2&u_tz=0&dt=1673254412096&u_w=360&u_h=806&biw=360&bih=674&psw=360&psh=2988&frm=0&cl=493016327&uio=-&cont=autors-container-0&jsid=csa&jsv=493016327&rurl=https%3A%2F%2Fcdn-af.feednews.com%2Fnews%2Fdetail%2F9a78021b5a5b85afa9e53b5ce04c43cf%3Ffeatures%3D2114057%26country%3Dgh%26uid%3D08c1e53bf8ea5f4e83fb533f6407a12207298822%26like_count%3D2%26client%3Dmini%26language%3Den&adbw=master-1%3A318
In his Half Yearly report, Mr. Agyebeng said he needs more funds in order to deal with the sophisticated nature of corruption and corruption-related offences in the country.
According to him, the need has been necessitated by the upgraded ways in which perpetrators now carry out their corrupt practices.
In his view, corruption has become more complex due to technology, hence the need for more resources to avoid being outsmarted by the sophisticated offenders.
Thanks for reading from MyNewsGH as a news publishing website from Ghana. You are free to share this story via the various social media platforms and follow us on; Facebook, Twitter, Instagram etc.
Send your news stories to [email protected] and via WhatsApp on +233 202452509

Easy Play, Easy Win. Play The Instant Games Online At MSport, Win Big Prizes Now.MSportSign Up
People with hip and knee pain should know. Look!Medical News
Prices of Used Cars in Accra Could Surprise YouUsed Cars | Search adsSearch Now
Stаble Blood Pressure Till Old Age. Take 2 Minutes To Read History of Sefi Oyeyemi