Reshuffle: President's Family Wants NAPO And Asiamah Out?
checkoutghana.com
Jan 8, 2023 3:06 PM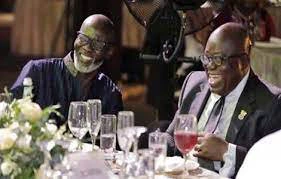 There are indications that the resignation of Mr. Alan kyerematen, the Trade and Industry Minister on Thursday, January 5, 2023, to concentrate on his campaign for the New Patriotic Party (NPP) flagbearership race has ruffled some feathers in the political atmosphere of the party.
Insiders have hinted that the resignation of Mr. Kyerematen and possibly that of Dr. Afriyie Akoto, the minister for Agriculture who is said to be also interested in contesting NPP flagbearership elections will lead to the President Nana Akufo Addo embarking on the much-awaited ministerial reshuffle.
Credible information indicates that a couple of well-known persons in the NPP and said to be relatives of the President want two cabinet ministers removed from the government.
The two ministers are Dr Mathew Opoku Prempeh; also known as NAPO minister of Energy and Mr Kwaku Asiamah, minister of Transport.
https://www.google.com/afs/ads?psid=5134551505&channel=AutoRsVariant&fexp=44778204%2C21404%2C17301075%2C17301076&client=pub-1883810847636355&r=m&sct=ID%3D8d48dfc20b4fbbe2%3AT%3D1663995891%3AS%3DALNI_MYBQ_1mRlbaYMdncuO4-jaN5s_Fpg&sc_status=6&hl=en&type=3&rs_tt=c&oe=UTF-8&ie=UTF-8&format=r5&nocache=9041673201719130&num=0&output=afd_ads&domain_name=cdn-af.feednews.com&v=3&bsl=10&pac=0&u_his=2&u_tz=0&dt=1673201719141&u_w=360&u_h=806&biw=360&bih=674&psw=360&psh=1727&frm=0&cl=493016327&uio=-&cont=autors-container-0&jsid=csa&jsv=493016327&rurl=https%3A%2F%2Fcdn-af.feednews.com%2Fnews%2Fdetail%2Fd1806c6ba9f1c91233300a5b844e6008%3Ffeatures%3D2114057%26country%3Dgh%26uid%3D08c1e53bf8ea5f4e83fb533f6407a12207298822%26like_count%3D5%26client%3Dmini%26language%3Den&adbw=master-1%3A318
The information is that these two ministers have been challenging and allegedly blocking deals from the family relatives of the President hence the plot to have them removed.
More to come.

Everyone Who Suffers From Back Pain Read This!Medical News
Prices of Used Cars in Accra Could Surprise YouUsed Cars | Search adsSearch Now
Villa Prices in Dubai Might Surprise YouApartments For Rent | Search Ads
Want To Lose Weight? Here's The Way to Lose Belly Fat EffectivelyBodytree StudioLearn More
Sponsored Linkshttps://s.adx.opera.com/aframe
null
Unmute