Menu ›
National Cathedral spent GH₵790K from US fundraiser on 2 Kempinski symposia – Ablakwa alleges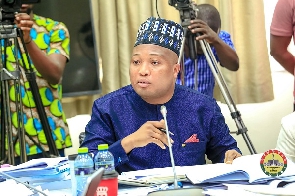 Samuel Okudzeto Ablakwa, MP for North Tongu
Thu, 5 Jan 2023Source: www.ghanaweb.com
Member of Parliament for North Tongu, Samuel Okudzeto Ablakwa has alleged that the National Cathedral secretariat spent all monies realised from a fundraiser in the United States on two symposia held in Accra.
Ablakwa who has serially published purported records of public funds sunk into the project, for the first time on Wednesday, January 4, spoke issues around privately-sourced funds for the project.

Without providing the source of his information, the lawmaker said out of the over GH₵794,000 cedis from the fundraiser, GH₵790,000 was spent as expenditure on two Bible Musuem symposia held at the Kempinski Hotel in Accra.

The Bible Museum is one of the main facilities the Cathedral will house and is touted as one of the revenue generation planks of the edifice because of its ability to attract religious tourists.

Ablakwa in a Facebook post dated January 4, referenced recent efforts by the Cathedral Secretariat to raise funds for the completion of the project after Parliament rejected an expenditure item for the project in the 2023 budget.

"After we successfully blocked the GHS80million budgetary allocation for President Akufo-Addo's Cathedral in Parliament; I have observed a spirited campaign by the National Cathedral Secretariat to woo private donors and assure the donor community that it can still meet its ambitious 2024 completion target.
"The Secretariat's track record gives me very little confidence in that regard," the post stated.

On the issue of how the raised funds were disbursed, Ablakwa stated: "This is a Secretariat that raised the equivalent of GHS794,990.01 from its fundraising in the United States of America, and then decided to host 2 Bible Museum of Africa symposia at Kempinski in Accra which cost them GHS790,845.27.

"In simpler terms, the Secretariat's Kempinski expenditure is virtually everything raised from its US fundraiser, leaving only a measly GHS4,144.74 for actual construction. Any wonder the JV contractors, RIBADE Ltd have long abandoned site since March 2022 for lack of payment?" the post concluded.

https://www.facebook.com/plugins/post.php?href=https%3A%2F%2Fwww.facebook.com%2Fokudzetoablakwa%2Fposts%2Fpfbid0recyiVtZHmoYaAdu4BNYj8UzaaGtbHot1kg8ZcEmunQ2sfdCcmiYyePATDSE6HKfl&show_text=true&width=500

SARA
Source: www.ghanaweb.com
'Cedi will inevitably depreciate further from January to June' – Ato Forson projects
National Cathedral: Your 'fake' investigations 'boring' – Adjaye lunges at accusers
I will deal with you if you trespass again – Drobonsohene warns Agogo Police Commander
'He's not taller than me' – Ethiopian challenges 'World Tallest' Ghanaian man
Latest OSP report: Adu Boahen, Sir John's will, Akonta Mining, others mentioned
How 2022 proved Vice President Bawumia's economic theories right
Hopeson Adorye's cryptic post after Bawumia's visit
Justin Kodua issues stern warning to Abronye over media rants
Social media users 'dissect' Sammy Gyamfi's marriage ceremony
Hannah Bissiw scolds ex-NPP MP
Related Articles:
Explore GhanaWeb
NewsSportsBusinessEntertainmentGhanaWeb TVAfricaCountryWall
Copyright © 1994 – 2023 GhanaWeb. All rights reserved.