Mineworkers Union raises concern with sustainability of Gold for Oil policy
gbcghanaonline.com
Jan 3, 2023 7:14 PM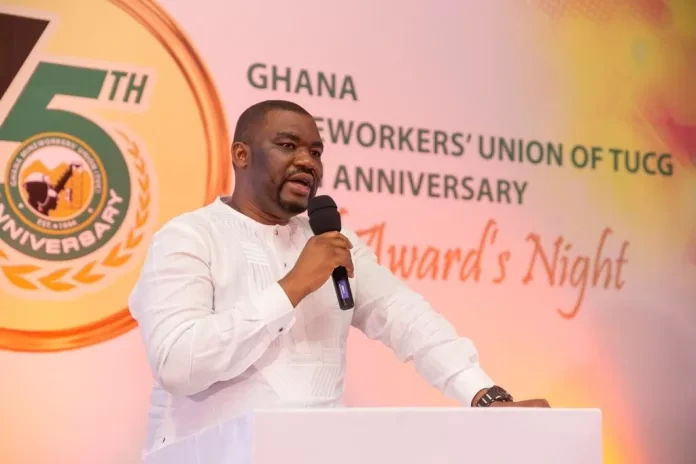 By Naa Atwei Sowah
The Ghana Mineworkers Union has raised concerns about the sustainability of the gold for oil policy by the government on the international commodity market.
According to the General Secretary of the Ghana Mineworkers Union, Abdul Moomin, a more sustainable measure must be put in place.
Mr. Moomin maintained that although the idea is quite innovative, it only appears as a short-term solution to the current economic challenges confronting the country.
https://www.google.com/afs/ads?psid=5134551505&channel=AutoRsVariant&fexp=44778204%2C21404%2C17300003&client=pub-1883810847636355&r=m&sct=ID%3D8d48dfc20b4fbbe2%3AT%3D1663995891%3AS%3DALNI_MYBQ_1mRlbaYMdncuO4-jaN5s_Fpg&sc_status=6&hl=en&type=3&rs_tt=c&oe=UTF-8&ie=UTF-8&format=r5&nocache=3821672900614722&num=0&output=afd_ads&domain_name=cdn-af.feednews.com&v=3&bsl=10&pac=0&u_his=2&u_tz=0&dt=1672900614724&u_w=360&u_h=806&biw=360&bih=674&psw=360&psh=2467&frm=0&cl=493016327&uio=-&cont=autors-container-0&jsid=csa&jsv=493016327&rurl=https%3A%2F%2Fcdn-af.feednews.com%2Fnews%2Fdetail%2Fe690e9f2e29a5743ac0d026f0ed30136%3Ffeatures%3D2114057%26country%3Dgh%26uid%3D08c1e53bf8ea5f4e83fb533f6407a12207298822%26like_count%3D1%26client%3Dmini%26language%3Den&adbw=master-1%3A318
He further explained that if it is a credible avenue that can be used to leverage the rising cost of petroleum products across the globe and Ghana is not an exception. He said it could be an innovative idea that could be looked at, which equally boils down to how much gold the country has in store to trade.
Government announced that it is working on a policy to buy oil products with gold as one of the solutions to halting the depreciation of the cedi, and has also directed all large-scale mining companies to sell 20 percent of all refined gold to the Bank of Ghana.
All Community Mining Schemes are also expected to sell their gold outputs to the government.

Stаble Blood Pressure Till Old Age. Take 2 Minutes To ReadHistory of Sefi Oyeyemi
Chance To Get and Withdraw Your GHS5,000 Cash Giveaway Directly on MSportMSportPlay Now
Want To Lose Weight? Here's The Way to Lose Belly Fat EffectivelyBodytree StudioLearn More
Weight Loss Surgery In Mexico Cost Might Be More Affordable Than Ever!Weight Loss In Mexico – Search Ads
Sponsored Linkshttps://s.adx.opera.com/aframe
null
Unmute