I'M TIRED OF ALAN'S FALSE STORIES – Boakye Agyarko Responds
ahafonews.com
Jan 2, 2023 7:31 AM
I'M TIRED OF ALAN'S FALSE STORIES – Boakye Agyarko Responds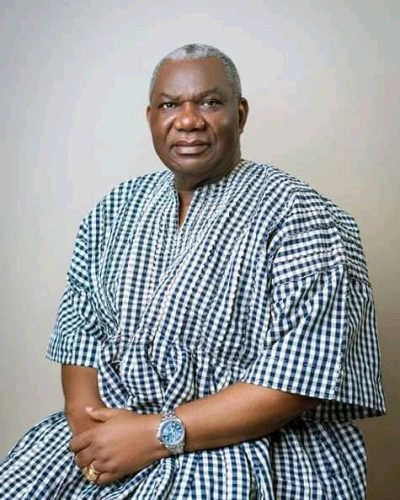 I have read the news coming from Alan Kyerematen's Greater Accra tour with utter disbelief and amazement.
He has made false claims in his attempt to discredit Nana Akufo-Addo and the 2012 NPP campaign team, all in his bid to explain his relative absence during the said campaign, as he contests for the party's flagbearership once again.
As the Campaign Manager for the 2012 NPP National Campaign, I am compelled to set the records straight.
With respect to not being invited to join the campaign, the truth of the matter is, Mr. Kyerematen left town for an international job after losing the primaries. As he proudly boasts, he is an international man! In February of 2011, Mr. Kyerematen, Nana Addo and I had a brief discussion in Nana's office about his role in the campaign. Later that morning, I had another meeting with Mr. Kyerematen to discuss his role. He intimated he wanted the discussion to continue after his return from Addis Ababa and he promised to stay in touch. In the whole time he was away, he never called ONCE to even check on the progress of the campaign. And of course, he did not return in April as he had indicated.
Were we to wait twiddling our thumbs?
What is it that Mr. Kyerematen wanted to offer the NPP in its presidential campaign that he was prevented from offering? If Mr. Kyerematen had for instance mentioned we were losing our grip on Brong Ahafo and that he wanted to spend three months there working with parliamentary candidates on the ground, I do not believe anyone would have stopped him! If he had told us he knew how to identify and attract floating voters, no one in the NPP would have scorned his efforts to help the party win power.
In Mr. Kyerematen's mind, following Nana Addo around the country and speaking just before him was his idea of participation in the campaign. Unfortunately, there is much more to campaigning for an election than that. After the 2010 presidential primary, Nana Akufo-Addo visited all the aspirants in their homes in Accra and invited them to join his campaign. Mr. Isaac Osei and Prof Frimpong Boateng were all members of the Manifesto Committee. Mr. Kyerematen was also invited to join that Committee.
Prof. Frimpong-Boateng and Dr. Nsiah Asare rewrote our manifesto on Health. When Nana Addo began his speaking tours on Health, Education, Trade, Defence and so on, several experts in various fields presented unsolicited draft speeches to the campaign to help with these events. And not one of them asked to be seated on the platform whilst Nana made these speeches around Ghana. Those, in my estimation, were solid contributions!
Dear Alan, following Nana Addo around Ghana and speaking on a platform was only a minute part of the hard work needed for the campaign.
I am a bit tired of hearing Mr. Kyerematen's constant refrain of not being allowed to speak at the Mantse Agbona mammoth rally. The NPP is blessed with party stalwarts whom our supporters cherish and at rallies many of these people are called to speak. Alan Kyerematen is one of these people. For the Mantse Agbona rally, we arranged our speakers ahead of time and assigned them their roles, focus etc. Was Mr. Kyerematen expecting an assigned speaker to be dropped to make space for him to speak when none of the organisers knew he was going to show up at all? I must add, for the very few occasions that he had come from Addis Ababa and showed up at an event, Akufo-Addo always insisted he be allowed to speak.
Mr. Kyerematen claims he went to some constituencies and they did not recognize him. Strange that he would blame these party members. It will help if he can name just one such constituency. I certainly do hope he is not suggesting that somebody spent precious time going round the country lobbying for Alan Cash not to be recognized.
That is so far-fetched it is unbelievable!
With regards to the Supreme Court hearings, I am extremely surprised that he keeps going on about not being given accreditation. For someone who was called and convinced by Mr. Asare Bediako, NPP Chairman, Asokwa Constituency, to show up at least once at the Supreme Court since people were beginning to notice his loud silence and detachment from the petition, it is ironic that he has made this an issue on his campaign.
After all, aside from appearing at the Supreme Court to show one's support, there were many other activities involved in putting the petition before the Supreme Court. Lawyers of Alan's ilk spent their precious time, free of charge, poring over books, cases and files to help build a case to take to court. The Minority in Parliament were among those who donated money towards the case. Hundreds of people, some of them much older than him, spent months collecting pink sheets, sometimes at their own peril.
Others spent months entering and analyzing data. Many of these gallant party members, including Martin Adjei, the Director of Electoral Affairs, who went around the country collecting pink sheets, etc, did not get accreditation when the court began sitting. Is Mr. Kyerematen suggesting they did not deserve to be in court?
about:blank
It is a matter of public record that the entire NPP received only 25 accreditation cards per sitting. Our one hundred and twenty-three Members of Parliament had to share 5 cards. They quickly devised a system where, on any given day they would select five Members who would attend. The party did not assign me accreditation I made arrangements with someone who could not attend on Thursdays and used his card as such.
Was Mr. Kyerematen, the 'international man', expecting the party to specially reserve a card out of the 25 for him so that on any day he felt like flying in, a card would be waiting for him? That would have been grossly unfair to those who hung around the court house daily, devising clever ways to enter. Several other members of the party found ingenious ways to at least be present for one sitting.
Mr. Kyerematen claims he was finally given accreditation by one of the Supreme Court judges. This is UNTRUE. Sir John is the one who facilitated Alan's entry into the Supreme Court. No Supreme Court Judge was involved in such a mundane matter. After all, protocol duties are not one of the roles assigned any distinguished Supreme Court Justice of this land.
I wish Alan Kyerematen the very best in his campaign. I would however encourage him to stick to the facts as much as possible whilst on the campaign trail. After all, the Bible says: Truthful words stand the test of time, but lies are soon exposed (Proverbs: 12:19).
Signed
Boakye Agyarko
Campaign Manager for the 2012 NPP National Campaign.

1 Cut or Even More, You Still Get Paid on MSport.MSportTry Now
Stаble Blood Pressure Till Old Age. Take 2 Minutes To Read History of Sefi Oyeyemi
Rent A Car in ChennaiSmilecars
Villa Prices in Dubai Might Surprise YouApartments For Rent | Search Ads
Sponsored Linkshttps://s.adx.opera.com/aframe
null
Unmute