Curren Price Jr: Diasporan collaboration key in remembering icons of Pan-Africanism
dailystatesman.com.gh
Jan 1, 2023 7:20 PM
By Bright Philip Donkor
Story written by: Bright Philip Donkor
Los Angeles City Council Member for the 9th District in California, Curren De Mille Price Jr., has emphasised the need for African leaders and the African diaspora, particularly Ghana to collaborate in efforts in promoting Pan-Africanism and recognising the role of African heroes.
He said the collaboration will not only remember illustrious diasporan leaders but it will also promote trade and foreign direct investment, establish businesses, encourage entrepreneurship and transfer new knowledge and skills.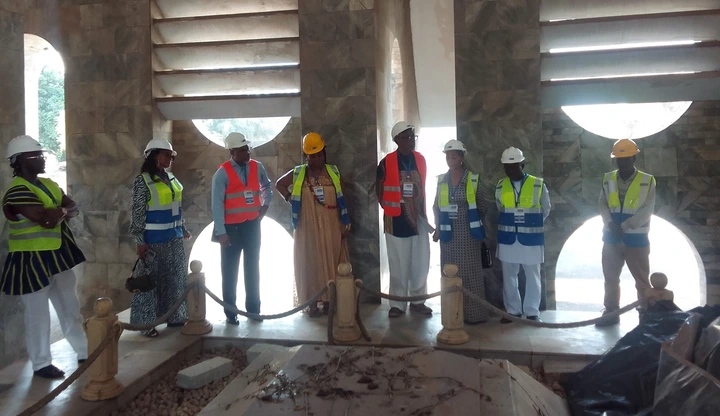 The Councilman made the call on Friday December 30, 2022 when he paid a visit to the Kwame Nkrumah Memorial Park and Mausoleum in Accra. His wife Del Richardson Price, together with other delegation were met by the daughter of Ghana's first President, Samia Nkrumah, who welcomed them to the complex dedicated to Dr. Kwame Nkrumah.
Curren's visit to the mausoleum formed part of activities of the high level Los Angeles 9th District delegation to Ghana.
Present was the Director of the Mausoleum. Also accompanying them were the Queen Mother of the Okogyeaman Tete Kwame Asona Royal from Ahwerase Akuapem in the Eastern Region, Ankobeahemaa Nana Akosua Sekyiaabea I, who is called Mrs Nehanda Sankofa-Ra and her husband, Mr Patrick Cobbinah.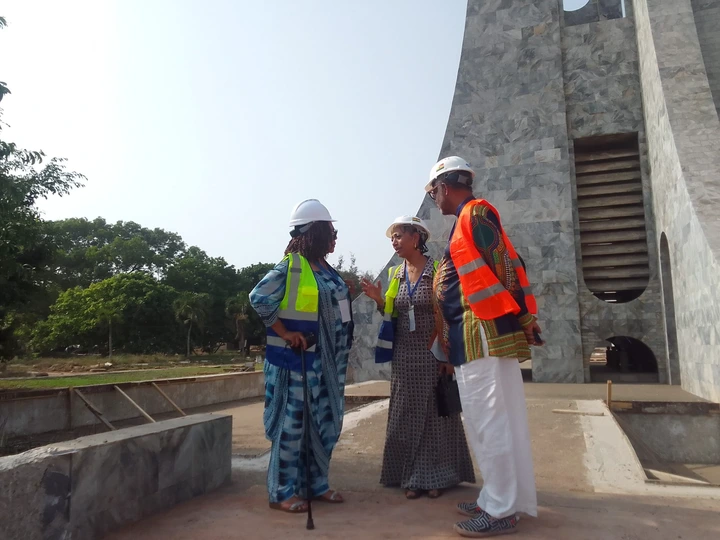 The delegation were taken through the Kwame Nkrumah Statue, and observed a minute of silence in remembrance of the prominent Ghanaian leader. They were then led by a tour guide, into the mausoleum, which houses the bodies of Kwame Nkrumah and his wife, Fathia Nkrumah.
Connection
The Councilman noted that African-Americans undertake trips to destinations where they can connect with their roots and history.
He said the visit demonstrates the United States' enduring commitment to the African continent and underscores the importance of US – Africa relations as well as an increased cooperation on shared global priorities, more especially in these difficult times of global economic challenges.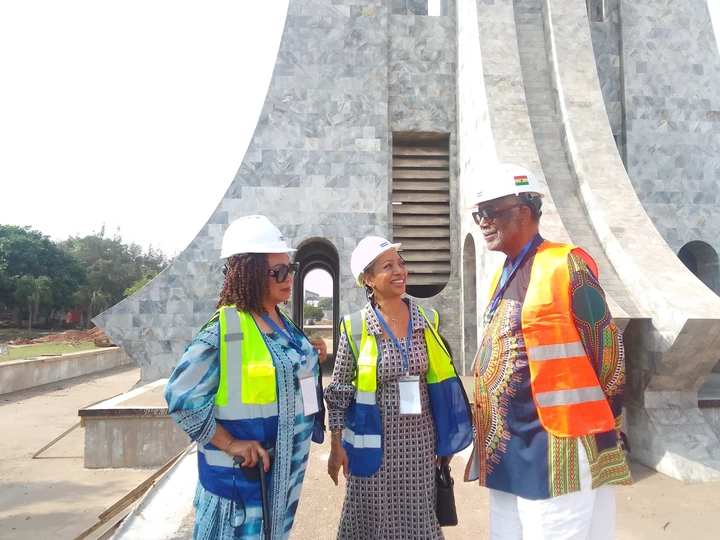 On the future of Ghana – US relations, Councilman Curren said, "I think our relations will grow from strength to strength as we are grounded in similar values. Learning from each other strengthens our bond and the people's exchanges through projects like the Year of Return and Beyond The Return, which has seen thousands of Americans visiting Ghana for several reasons tells of the great future of our relationship," he stressed.
He further called on young people of Africa to join forces to reach the aspirations of Agenda 2063 for prosperous, integrated, and peaceful Africa.
Agenda 2063 is Africa's development blueprint to achieve inclusive and sustainable socio-economic development over a 50-year period.
"You must commit to work and fight for a peaceful Africa anchored on reliable, sustainable democratic leadership. You must reject unconstitutional transfer of power, through your active citizenship, vying for political positions in your own countries to change the course of history," he urged.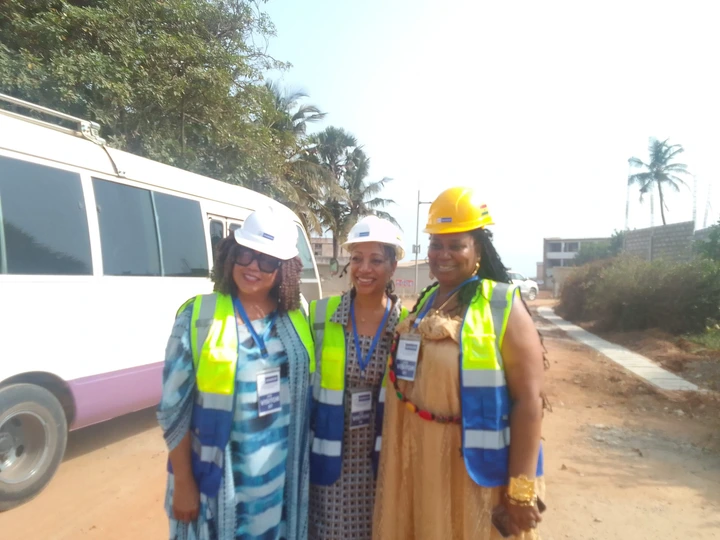 Delight
On her part, Samia Nkrumah also told the delegation the story of his late father, Dr Kwame Nkrumah and expressed delight on how the Councilman's visit.
"I'm very happy that the Councilman has come all the way to recognise the importance of Dr Kwame Nkrumah. This is more than a courtesy call; it is more about recognising the role of our African heroes. I'm sure my father will be happy that a Pan-Africanist just like the Councilman has come to his resting place," she said.
She also held the conviction that remembering and recognising all the important heroes and heroines, and improving the sites associated with them would not only improve tourism but the country's development as a whole.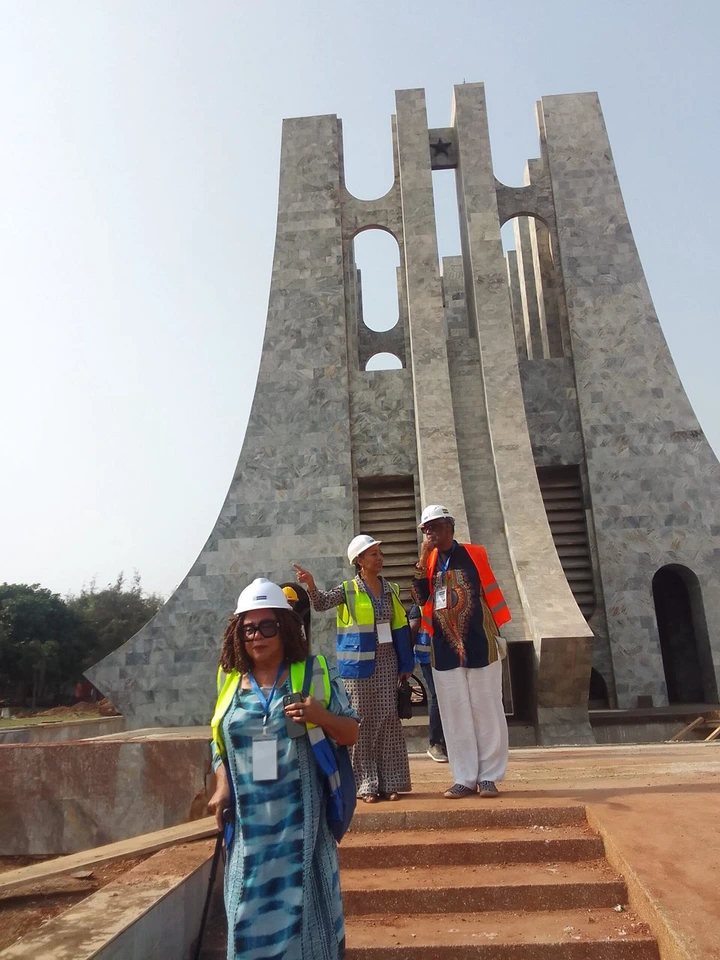 Nkrumah's story
Samia disclosed that on April 27, 2022 marked the 50th anniversary of the death of Osagyefo Dr Kwame Nkrumah, Ghana's first president. She described him as a nationalist, a great Pan-Africanist, an intellectual icon with a unique sense of responsibility, a man of vision and foresight, a veritable pillar of truth and moral principles, brave, talented, illustrious and sagacious.
The daughter also stressed that her father was a man of invigorate integrity and a vibrant personality encompassing simplicity and frankness of thought.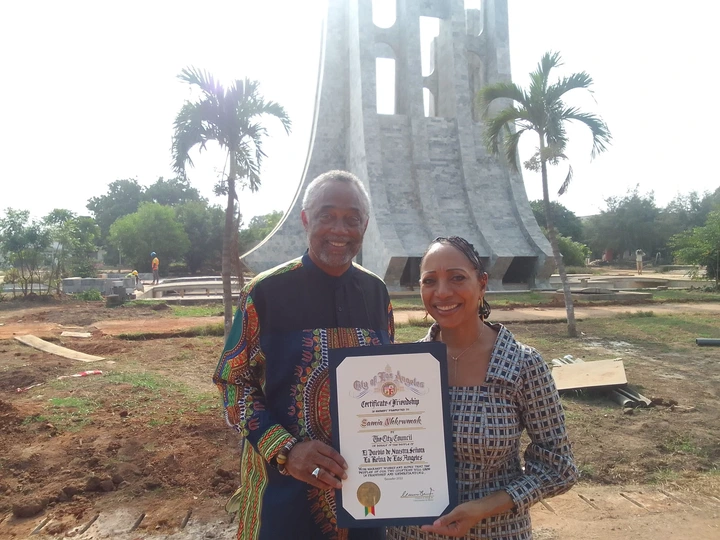 She said on February 21, 1966, Dr Kwame Nkrumah left Ghana on a state visit to Hanoi, the Vietnamese capital, ostensibly to broker a peace deal to end the American war in Vietnam.
"On February 24, 1966, the Ghana Police and the Ghana Armed Forces, aided and abetted by forces of imperialism took advantage of his absence and staged a bloody coup that overthrew his government. The coup, led by Major Emmanuel Kwasi Kotoka, was code-named "Operation Cold Chop"," she recalled.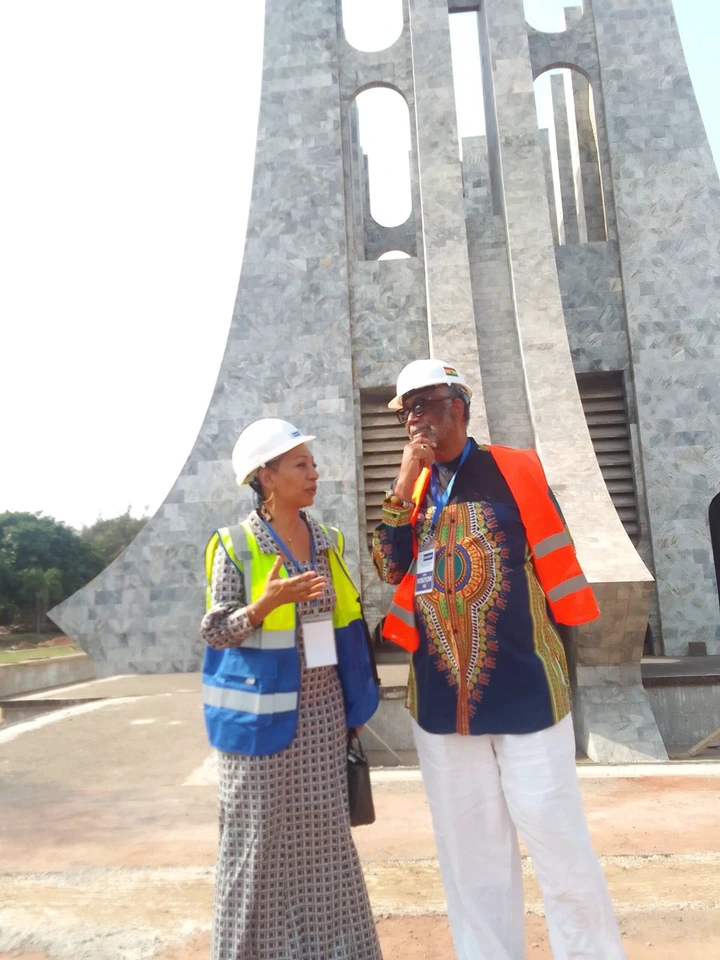 Exile
Going forward, Samia revealed that Dr Kwame Nkrumah went into exile in Guinea, at the invitation of his friend, President Sekon Toure, the President of Guinea, who appointed him honorary co-President of his country.
According to her, her father stayed in Guinea for six years and in 1971, he fell sick and was flown to Bucharest, Romania for treatment.
Later, the daughter indicated that he was diagnosed of Prostate Cancer and on April 27, 1972, he died. The government then, the National Redemption Council (NRC), under the leadership of Colonel Ignatius Kutu Acheampong, engaged in a protracted negotiation for his remains to be flown to Ghana.
He was buried in his hometown Nkroful in the Western Region on July 9, 1972. It is significant to note that the casket that contained his body had this inscription boldly written on it. "The Great African", an acknowledgment of the fact that he was truly a Great son of Africa.
Famous political dictum
Osagyefo Dr Kwame Nkrumah's political dictum, "The independence of Ghana is meaningless unless it is linked up with the total liberation of the African continent," was significant in the political history of Ghana and Africa.
Through his personal involvement and absolute commitment to the African liberation struggle, his charm and charisma, organisational acumen, razor-sharp intellect and quintessential display of oratorical excellence, he demonstrated a superior combination of effective, dynamic and inspirational leadership.
These set in motion a hurricane of nationalism which was described by Harold Macmillan, the then Prime Minister of the United Kingdom as "the wind of change blowing through the continent of Africa".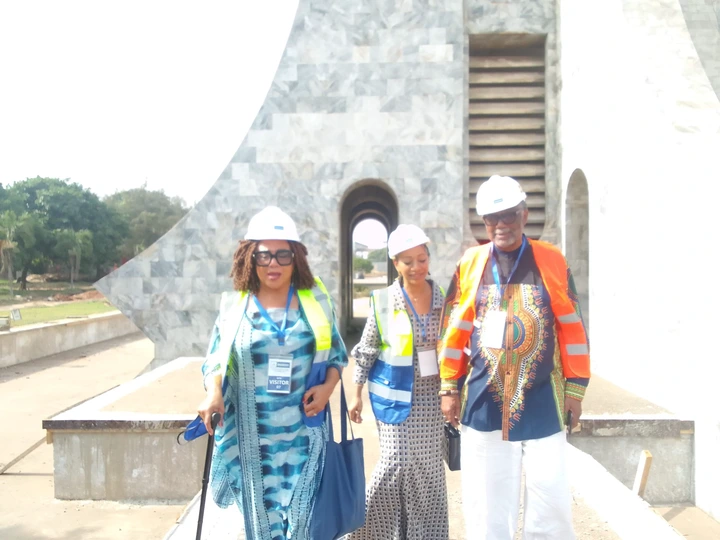 A nationalism, which guided the entire colonial world to gain their own sovereign independence, to end the invidious colonial oppression.
After Ghana gained her independence in 1957, Guinea followed and gained her independence in 1958. Through his persistent and consistent fight for the emancipation of the African continent, in 1960, 17 more colonies in Africa, including Nigeria, and nearly all the French African colonies became sovereign independent nations.
Within four years after independence, 32 African states under colonial yoke gained their independence.
Thus, Osagyefo Dr Kwame Nkrumah's influence became the political anodyne which healed the colonial wound – oppression, suppression and servitude – a colonial system that had done an incalculable harm to the African Continent.
In fact, it is important to note that Dr. Kwame Nkrumah's political umbilical cord was inextricably linked to the total liberation of Africa and the political unification of the African Continent.
Addressing the United Nation's General Assembly in New York on September 23, 1960, he said, "As long as a single foot of African soil remains under foreign domination the world shall know no peace".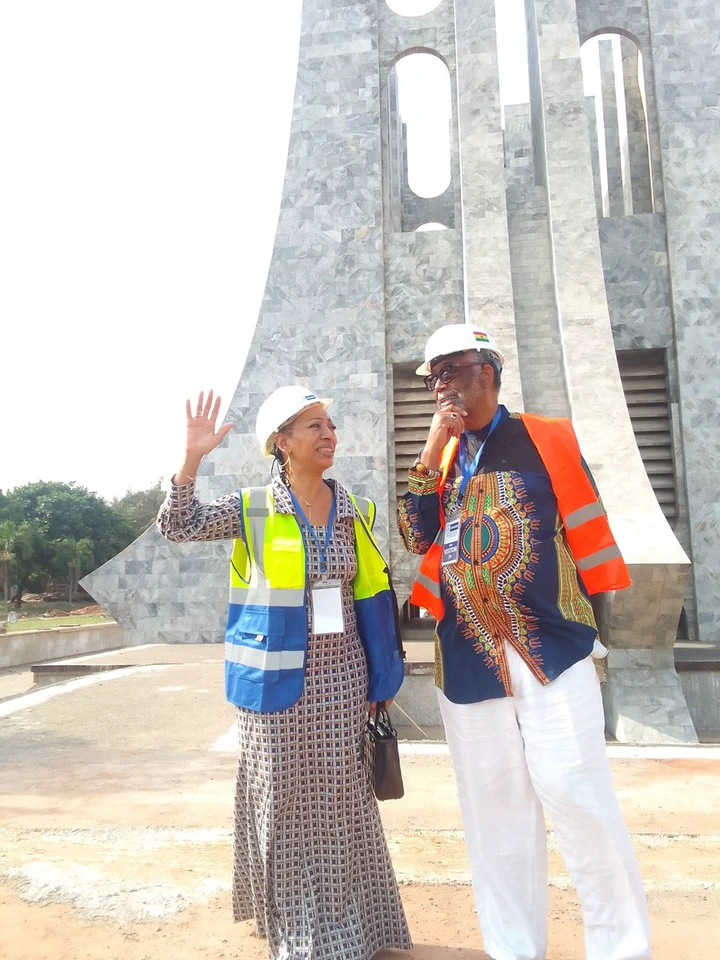 Man of the millennium
It therefore came as no surprise to his followers when in 2000 he was voted Africa's man of the millennium in a poll conducted by the BBC. Then South Africa's sitting President, Nelson Mandela, many people's favourite, came a distant second.
The Africa Union (AU) also, in recognition of the yeoman's role Nkrumah played in the decolonisation process, erected a giant statue in his honour and memory at the headquarters of the AU in Addis Ababa.
Even though his opponents accused him of abandoning Ghana in favour of his African adventure, today, almost half a century after his death, Ghanaians believe his contribution to Ghana's development cannot be matched by any Ghanaian leader, both military and civilian, who came after him.
It is always a matter of joy to read the views of young Ghanaians who were not born when Nkrumah held sway writing so favourably about the Osagyefo.
Certainly, for generations to come the man Nkrumah will continue to generate debate among writers of African history, as his name will continue to come under the microscope, giving meaning to the long held view by his supporters and admirers that "Nkrumah Never Dies."
Mausoleum's inside story
On July 1, 1992 the Provisional National Defence Council (PNDC), under the late Flt.Lt. J.J. Rawlings, transferred his remains to the Kwame Nkrumah Mausoleum, a tomb which was constructed to honour his memory.
It serves as a tourist destination which has been attracting many from all over the world visit it. Incidentally, that place was the Polo Grounds, where he declared Ghana's independence from Great Britain on March 6, 1957.
The structure resembles swords which have been turned upside down, signifying peace, perhaps. Others also view it as an uprooted tree, signifying the unfinished works of Nkrumah.
https://www.google.com/afs/ads?psid=5134551505&channel=AutoRsVariant&fexp=44778204%2C21404%2C17300003&client=pub-1883810847636355&r=m&sct=ID%3D8d48dfc20b4fbbe2%3AT%3D1663995891%3AS%3DALNI_MYBQ_1mRlbaYMdncuO4-jaN5s_Fpg&sc_status=6&hl=en&type=3&rs_tt=c&oe=UTF-8&ie=UTF-8&format=r5&nocache=811672669010288&num=0&output=afd_ads&domain_name=cdn-af.feednews.com&v=3&bsl=10&pac=0&u_his=2&u_tz=0&dt=1672669010291&u_w=360&u_h=806&biw=360&bih=674&psw=360&psh=15080&frm=0&cl=493016327&uio=-&cont=autors-container-0&jsid=csa&jsv=493016327&rurl=https%3A%2F%2Fcdn-af.feednews.com%2Fnews%2Fdetail%2F030c08973885cecc9af473cc321650b2%3Ffeatures%3D2114057%26country%3Dgh%26uid%3D08c1e53bf8ea5f4e83fb533f6407a12207298822%26like_count%3D0%26client%3Dmini%26language%3Den&adbw=master-1%3A318
The museum, on the other hand, accommodates the personal belongings of Nkrumah. These include books he wrote, photograph archives and official photographs. Some of these pictures of Dr. Nkrumah with some of the most famous people of his time is an eye opener.
The photo collection features pictures of Nkrumah with several renowned leaders of his time. Some of them are; Jawarharlal Nehru, Mao Zedong, Fidel Castro, Nikita Khrushchev, John F Kennedy of USA, Sir Alec Hume, Queen Elizabeth II of England, Harold Macmillan, Pope Pius XII, President Nasser of Egypt, and countless leaders of countries like Malaya, Sri Lanka, Niger, among others.
Other things
Also in the museum is the metal coffin donated by the people of Guinea when the remains of Nkrumah were returned from Romania to Guinea and later to Nkroful.
In the park it is the bronze statue of Nkrumah clad in cloth with his hand symbolically pointing forward. It stands at the same place that Nkrumah stood to declare Ghana's Independence from British colonial rule on March 6, 1957.
The body is buried under a catafalque raised in the centre of the park. Symbols which reflect Ghana's culture and history were used to portray Dr. Nkrumah's vision to promote the African personality. The full statue of Dr Nkrumah, wearing a cloth, in bronze is sited at the exact location where he proclaimed Ghana's independence.
As you approach the main way leading to the Kwame Nkrumah Mausoleum, you'll see springs on either sides of the walk way. Each spring has seven bare-chested, squatting statuettes of flute blowers, who seem to welcome the arrival of world leaders and other important personalities.
The design of the Kwame Nkrumah Mausoleum, which represents swords turned upside down symbolizes peace. It can also be viewed as an uprooted tree to signify the unfinished work of Dr. Nkrumah to totally unite Africa.
This is a place the Councilman didn't miss during his stay in Accra, since the transition of Gold Coast to Ghana happened on this same location. Kwame Nkrumah Mausoleum, is what some scholars call the "genesis" of the actual History of Ghana.
About
Located in downtown Accra, Ghana is the Kwame Nkrumah Memorial Park and Mausoleum. The Mausoleum is the final resting place of Ghana's first President and Africanist. The museum hosts rare artefacts relating to Ghana's independence and tours at the park give visitors in-depth history of the Sub-Saharan struggle for independence.
The mausoleum designed by Don Arthur houses the mortal remains of Dr. Kwame Nkrumah and his wife Fathia Nkrumah. It is meant to represent an upside-down sword which in the Akan culture is a symbol of peace. The mausoleum is clad from top to bottom with Italian marble, with a black star at its apex to symbolize unity. The interior of the Mausoleum boasts marble flooring and a mini mastaba looking marble grave marker surrounded by river-washed rocks.
A skylight at the top in the Mausoleum illuminates the grave, and at the right time, seems to reflect off the marble further emphasizing that beauty many have come to fall in love with.
The Mausoleum is surrounded by water which is a symbol of life. Its presence conveys a sense of immortality for the name Nkrumah. It shows that even in death he lives on in the hearts and minds of generations here and generations yet to come.
The entrance to the site is from the 28th February High Street just along the coast from Independence Square. It is located directly opposite the old Parliament House now known as the Commission for Human Rights and Administrative Justice (CHRAJ).
It has a total surface area of approximately 5.3 acres. The mausoleum provides a front for the statue of Nkrumah whereas the museum is subterranean and does not compete with the mausoleum for attention. Rhythm, contrast and harmony were the main principles of design used in this building.
Story written by: Bright Philip Donkor. Writer's email: bpdonkor@gmail.com

Place Your Bet Now For A Huge Msport Win! Fantastic Welcome Bonuses and Promotions That Are Fun!MSportSign Up
103-Yеar-Old Ghanaian: I Don't Get Ill Because I Clean My VesselsHistory of Sefi Oyeyemi
Villa Prices in Dubai Might Surprise YouApartments For Rent | Search Ads
If You Have Joint Pain, Read It Before It Gets Deleted!Medical News
Sponsored Linkshttps://s.adx.opera.com/aframe
null