Corruption Watch exposes rot at DVLA in 'Money over human lives' documentary
ghanasummary.com
Dec 29, 2022 6:46 PM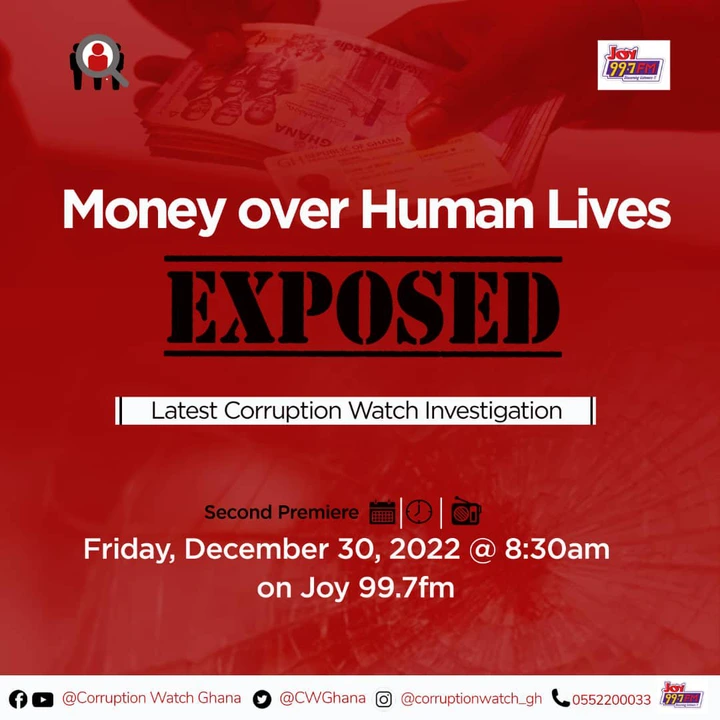 In Ghana, road accidents account for many deaths each year.
According to the Motor Traffic and Transport Department of the Ghana Police Service, between January and November this year, 13,675 road crashes were documented in Ghana.
These crashes resulted in 2,171 deaths, while 14,239 were injured.
Some of the major causes of these road accidents are the increasing number of wrongful overtaking and overspeeding due partly to the incompetence of the drivers.
Mr.
Kwame Koduah Atuahene, the Head of Regulation, Inspection, and Compliance at the National Road Safety Authority (NRSA), has said that some of the fraudulent ways of acquiring a driver's license are disturbing, especially since driving is a risky activity which requires validated expertise.
The Ghana Private Road Transport Union attributes carnage on the road to unqualified drivers who have no idea about such critical road safety issues.
They have noted that because the functions of saloon cars are fundamentally different from trucks, it is necessary to go through a proper process at the Driver and Vehicle Licensing Authority (DVLA) to acquire a specific license for specific vehicles.
Having introduced new reforms in 2012 and 2014 to curb the rot in the acquisition of driver's licenses in Ghana, Corruption Watch's Investigative Journalist, Francisca Enchill, set out to investigate the entire process for the acquisition of driving licenses at the DVLA.
The investigation was carried out in two regions, the Greater Accra Regional Office located at 37 and the Tamale Regional Office in the Northern Region.
Officially, DVLA has specific requirements that all applicants are required to meet before becoming licensed drivers.
about:blank
However, this investigation captured DVLA officials of different categories with some operating through agents, as well as security men who solicit money to outwit the official mandatory requirements for personal financial gains in total disregard for the danger their actions pose to human lives.
The documentary will air on Joy 99.7 FM on Friday at 8:00 am.
DISCLAIMER: The Views, Comments, Opinions, Contributions and Statements made by Readers and Contributors on this platform do not necessarily represent the views or policy of Multimedia Group Limited.

Easy Play, Easy Win. Play The Instant Games Online At MSport, Win Big Prizes Now.MSportSign Up
103-Yеar-Old Ghanaian: I Don't Get Ill Because I Clean My VesselsHistory of Sefi Oyeyemi
Do this before bed and watch your stomach shrinkStudent Discovery
Man Finds Palm Tree On The Beach And He Accidentally Spots Creatures Hiding In The Roots NFTscores.io
Sponsored Linkshttps://s.adx.opera.com/aframe
null
Unmute