#BHIMConcert22: Stonebwoy shakes Accra with Jamaican superstar Busy Signal
ghananewss.com
Dec 24, 2022 8:15 AM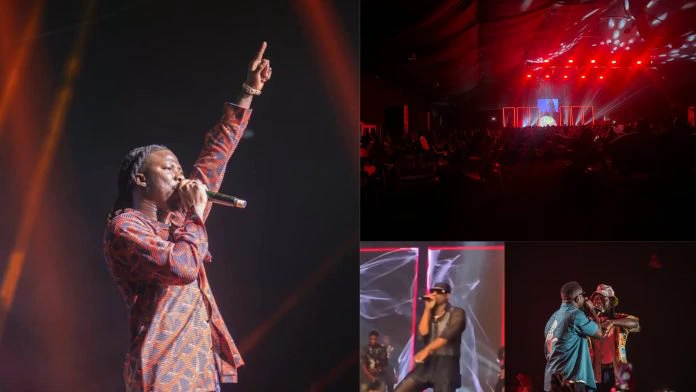 It was another wonderful experience for music lovers who attended the 2022 edition of Stonebwoy's BHIM Concert which was held on Friday December 23 at the Grand Arena of the Accra International Conference Centre.
The 2015 Vodafone Ghana Music Awards (Artist of the Year' hit the stage together with Sarkodie and Jamaican dancehall superstar Busy Signal to give 'BHIMnatives' a memorable experience.
Other performers on the night were Epixode, Fameye, Yaw Tog, Lali & Lola, Vanilar, Laruso and FBS.
Stonebwoy also surprised patrons by inviting veteran rapper, Tinny, on stage as a show of love after the two had a misunderstanding in the middle of the year which almost destroyed their friendship.
https://platform.twitter.com/embed/Tweet.html?dnt=false&embedId=twitter-widget-0&features=eyJ0ZndfdGltZWxpbmVfbGlzdCI6eyJidWNrZXQiOlsibGlua3RyLmVlIiwidHIuZWUiLCJ0ZXJyYS5jb20uYnIiLCJ3d3cubGlua3RyLmVlIiwid3d3LnRyLmVlIiwid3d3LnRlcnJhLmNvbS5iciJdLCJ2ZXJzaW9uIjpudWxsfSwidGZ3X2hvcml6b25fdGltZWxpbmVfMTIwMzQiOnsiYnVja2V0IjoidHJlYXRtZW50IiwidmVyc2lvbiI6bnVsbH0sInRmd190d2VldF9lZGl0X2JhY2tlbmQiOnsiYnVja2V0Ijoib24iLCJ2ZXJzaW9uIjpudWxsfSwidGZ3X3JlZnNyY19zZXNzaW9uIjp7ImJ1Y2tldCI6Im9uIiwidmVyc2lvbiI6bnVsbH0sInRmd19zaG93X2J1c2luZXNzX3ZlcmlmaWVkX2JhZGdlIjp7ImJ1Y2tldCI6Im9uIiwidmVyc2lvbiI6bnVsbH0sInRmd19jaGluX3BpbGxzXzE0NzQxIjp7ImJ1Y2tldCI6ImNvbG9yX2ljb25zIiwidmVyc2lvbiI6bnVsbH0sInRmd190d2VldF9yZXN1bHRfbWlncmF0aW9uXzEzOTc5Ijp7ImJ1Y2tldCI6InR3ZWV0X3Jlc3VsdCIsInZlcnNpb24iOm51bGx9LCJ0ZndfbWl4ZWRfbWVkaWFfMTU4OTciOnsiYnVja2V0IjoidHJlYXRtZW50IiwidmVyc2lvbiI6bnVsbH0sInRmd19zZW5zaXRpdmVfbWVkaWFfaW50ZXJzdGl0aWFsXzEzOTYzIjp7ImJ1Y2tldCI6ImludGVyc3RpdGlhbCIsInZlcnNpb24iOm51bGx9LCJ0ZndfZXhwZXJpbWVudHNfY29va2llX2V4cGlyYXRpb24iOnsiYnVja2V0IjoxMjA5NjAwLCJ2ZXJzaW9uIjpudWxsfSwidGZ3X2R1cGxpY2F0ZV9zY3JpYmVzX3RvX3NldHRpbmdzIjp7ImJ1Y2tldCI6Im9uIiwidmVyc2lvbiI6bnVsbH0sInRmd192aWRlb19obHNfZHluYW1pY19tYW5pZmVzdHNfMTUwODIiOnsiYnVja2V0IjoidHJ1ZV9iaXRyYXRlIiwidmVyc2lvbiI6bnVsbH0sInRmd19zaG93X2JsdWVfdmVyaWZpZWRfYmFkZ2UiOnsiYnVja2V0Ijoib24iLCJ2ZXJzaW9uIjpudWxsfSwidGZ3X3Nob3dfZ292X3ZlcmlmaWVkX2JhZGdlIjp7ImJ1Y2tldCI6Im9uIiwidmVyc2lvbiI6bnVsbH0sInRmd19zaG93X2J1c2luZXNzX2FmZmlsaWF0ZV9iYWRnZSI6eyJidWNrZXQiOiJvbiIsInZlcnNpb24iOm51bGx9LCJ0ZndfdHdlZXRfZWRpdF9mcm9udGVuZCI6eyJidWNrZXQiOiJvbiIsInZlcnNpb24iOm51bGx9fQ%3D%3D&frame=false&hideCard=false&hideThread=false&id=1606413036746588160&lang=en&origin=https%3A%2F%2Fnews-af.feednews.com%2Fnews%2Fdetail%2F962a95d56084893c0634601ded20a8dc&sessionId=376b416b746703a3e407c96a9dd60b7ca55e88e1&theme=light&widgetsVersion=a3525f077c700%3A1667415560940&width=550px
https://platform.twitter.com/embed/Tweet.html?dnt=false&embedId=twitter-widget-1&features=eyJ0ZndfdGltZWxpbmVfbGlzdCI6eyJidWNrZXQiOlsibGlua3RyLmVlIiwidHIuZWUiLCJ0ZXJyYS5jb20uYnIiLCJ3d3cubGlua3RyLmVlIiwid3d3LnRyLmVlIiwid3d3LnRlcnJhLmNvbS5iciJdLCJ2ZXJzaW9uIjpudWxsfSwidGZ3X2hvcml6b25fdGltZWxpbmVfMTIwMzQiOnsiYnVja2V0IjoidHJlYXRtZW50IiwidmVyc2lvbiI6bnVsbH0sInRmd190d2VldF9lZGl0X2JhY2tlbmQiOnsiYnVja2V0Ijoib24iLCJ2ZXJzaW9uIjpudWxsfSwidGZ3X3JlZnNyY19zZXNzaW9uIjp7ImJ1Y2tldCI6Im9uIiwidmVyc2lvbiI6bnVsbH0sInRmd19zaG93X2J1c2luZXNzX3ZlcmlmaWVkX2JhZGdlIjp7ImJ1Y2tldCI6Im9uIiwidmVyc2lvbiI6bnVsbH0sInRmd19jaGluX3BpbGxzXzE0NzQxIjp7ImJ1Y2tldCI6ImNvbG9yX2ljb25zIiwidmVyc2lvbiI6bnVsbH0sInRmd190d2VldF9yZXN1bHRfbWlncmF0aW9uXzEzOTc5Ijp7ImJ1Y2tldCI6InR3ZWV0X3Jlc3VsdCIsInZlcnNpb24iOm51bGx9LCJ0ZndfbWl4ZWRfbWVkaWFfMTU4OTciOnsiYnVja2V0IjoidHJlYXRtZW50IiwidmVyc2lvbiI6bnVsbH0sInRmd19zZW5zaXRpdmVfbWVkaWFfaW50ZXJzdGl0aWFsXzEzOTYzIjp7ImJ1Y2tldCI6ImludGVyc3RpdGlhbCIsInZlcnNpb24iOm51bGx9LCJ0ZndfZXhwZXJpbWVudHNfY29va2llX2V4cGlyYXRpb24iOnsiYnVja2V0IjoxMjA5NjAwLCJ2ZXJzaW9uIjpudWxsfSwidGZ3X2R1cGxpY2F0ZV9zY3JpYmVzX3RvX3NldHRpbmdzIjp7ImJ1Y2tldCI6Im9uIiwidmVyc2lvbiI6bnVsbH0sInRmd192aWRlb19obHNfZHluYW1pY19tYW5pZmVzdHNfMTUwODIiOnsiYnVja2V0IjoidHJ1ZV9iaXRyYXRlIiwidmVyc2lvbiI6bnVsbH0sInRmd19zaG93X2JsdWVfdmVyaWZpZWRfYmFkZ2UiOnsiYnVja2V0Ijoib24iLCJ2ZXJzaW9uIjpudWxsfSwidGZ3X3Nob3dfZ292X3ZlcmlmaWVkX2JhZGdlIjp7ImJ1Y2tldCI6Im9uIiwidmVyc2lvbiI6bnVsbH0sInRmd19zaG93X2J1c2luZXNzX2FmZmlsaWF0ZV9iYWRnZSI6eyJidWNrZXQiOiJvbiIsInZlcnNpb24iOm51bGx9LCJ0ZndfdHdlZXRfZWRpdF9mcm9udGVuZCI6eyJidWNrZXQiOiJvbiIsInZlcnNpb24iOm51bGx9fQ%3D%3D&frame=false&hideCard=false&hideThread=false&id=1606547890154897408&lang=en&origin=https%3A%2F%2Fnews-af.feednews.com%2Fnews%2Fdetail%2F962a95d56084893c0634601ded20a8dc&sessionId=376b416b746703a3e407c96a9dd60b7ca55e88e1&theme=light&widgetsVersion=a3525f077c700%3A1667415560940&width=550px
https://platform.twitter.com/embed/Tweet.html?dnt=false&embedId=twitter-widget-2&features=eyJ0ZndfdGltZWxpbmVfbGlzdCI6eyJidWNrZXQiOlsibGlua3RyLmVlIiwidHIuZWUiLCJ0ZXJyYS5jb20uYnIiLCJ3d3cubGlua3RyLmVlIiwid3d3LnRyLmVlIiwid3d3LnRlcnJhLmNvbS5iciJdLCJ2ZXJzaW9uIjpudWxsfSwidGZ3X2hvcml6b25fdGltZWxpbmVfMTIwMzQiOnsiYnVja2V0IjoidHJlYXRtZW50IiwidmVyc2lvbiI6bnVsbH0sInRmd190d2VldF9lZGl0X2JhY2tlbmQiOnsiYnVja2V0Ijoib24iLCJ2ZXJzaW9uIjpudWxsfSwidGZ3X3JlZnNyY19zZXNzaW9uIjp7ImJ1Y2tldCI6Im9uIiwidmVyc2lvbiI6bnVsbH0sInRmd19zaG93X2J1c2luZXNzX3ZlcmlmaWVkX2JhZGdlIjp7ImJ1Y2tldCI6Im9uIiwidmVyc2lvbiI6bnVsbH0sInRmd19jaGluX3BpbGxzXzE0NzQxIjp7ImJ1Y2tldCI6ImNvbG9yX2ljb25zIiwidmVyc2lvbiI6bnVsbH0sInRmd190d2VldF9yZXN1bHRfbWlncmF0aW9uXzEzOTc5Ijp7ImJ1Y2tldCI6InR3ZWV0X3Jlc3VsdCIsInZlcnNpb24iOm51bGx9LCJ0ZndfbWl4ZWRfbWVkaWFfMTU4OTciOnsiYnVja2V0IjoidHJlYXRtZW50IiwidmVyc2lvbiI6bnVsbH0sInRmd19zZW5zaXRpdmVfbWVkaWFfaW50ZXJzdGl0aWFsXzEzOTYzIjp7ImJ1Y2tldCI6ImludGVyc3RpdGlhbCIsInZlcnNpb24iOm51bGx9LCJ0ZndfZXhwZXJpbWVudHNfY29va2llX2V4cGlyYXRpb24iOnsiYnVja2V0IjoxMjA5NjAwLCJ2ZXJzaW9uIjpudWxsfSwidGZ3X2R1cGxpY2F0ZV9zY3JpYmVzX3RvX3NldHRpbmdzIjp7ImJ1Y2tldCI6Im9uIiwidmVyc2lvbiI6bnVsbH0sInRmd192aWRlb19obHNfZHluYW1pY19tYW5pZmVzdHNfMTUwODIiOnsiYnVja2V0IjoidHJ1ZV9iaXRyYXRlIiwidmVyc2lvbiI6bnVsbH0sInRmd19zaG93X2JsdWVfdmVyaWZpZWRfYmFkZ2UiOnsiYnVja2V0Ijoib24iLCJ2ZXJzaW9uIjpudWxsfSwidGZ3X3Nob3dfZ292X3ZlcmlmaWVkX2JhZGdlIjp7ImJ1Y2tldCI6Im9uIiwidmVyc2lvbiI6bnVsbH0sInRmd19zaG93X2J1c2luZXNzX2FmZmlsaWF0ZV9iYWRnZSI6eyJidWNrZXQiOiJvbiIsInZlcnNpb24iOm51bGx9LCJ0ZndfdHdlZXRfZWRpdF9mcm9udGVuZCI6eyJidWNrZXQiOiJvbiIsInZlcnNpb24iOm51bGx9fQ%3D%3D&frame=false&hideCard=false&hideThread=false&id=1606567006517460992&lang=en&origin=https%3A%2F%2Fnews-af.feednews.com%2Fnews%2Fdetail%2F962a95d56084893c0634601ded20a8dc&sessionId=376b416b746703a3e407c96a9dd60b7ca55e88e1&theme=light&widgetsVersion=a3525f077c700%3A1667415560940&width=550px