President Akufo Addo Jabs Ghanaians Over National Cathedral
newsghana24.com
Dec 23, 2022 1:33 PM
President Akufo-Addo said that people who didn't like the National Cathedral were like Sanballat and Tobias from the book of Nehemiah, who didn't like the Jerusalem wall.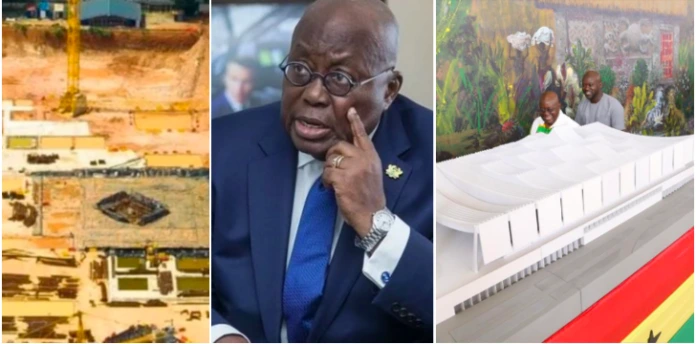 Many people think the project is the wrong thing to focus on, but he sticks to it.
He said this on December 18, 2022, in Accra's Black Star Square, where the Ga Presbytery was celebrating its first hundred years.
"Just like Sanballat and Tobias in the time of Nehemiah, there are people who don't agree with my ideas about building the National Cathedral.
I respect their right to disagree, but I'm sure of my decision because so many people are excited about this project, which has a spiritual dimension that can't be measured," Akufo-Addo said.
Even though Ghana is in a terrible and scary economic crisis and has asked the IMF for help, Akufo-Addo and his government are still planning to build the cathedral.
He said that it would "serve not only as the country's collective thanksgiving to the Almighty for the blessings He has given our nation, sparing us the ravages of civil war that have plagued the histories of almost all of our neighbors and the outbreak of deadly mass epidemics but also as a rallying point for the entire Christian community of Ghana, which makes up more than 70% of the population."
https://www.google.com/afs/ads?psid=5134551505&channel=AutoRsVariant&fexp=44778204%2C21404&client=pub-1883810847636355&r=m&sct=ID%3D8d48dfc20b4fbbe2%3AT%3D1663995891%3AS%3DALNI_MYBQ_1mRlbaYMdncuO4-jaN5s_Fpg&sc_status=6&hl=en&type=3&rs_tt=c&oe=UTF-8&ie=UTF-8&format=r5&nocache=2381671852526301&num=0&output=afd_ads&domain_name=cdn-af.feednews.com&v=3&bsl=10&pac=0&u_his=2&u_tz=0&dt=1671852526307&u_w=360&u_h=806&biw=360&bih=674&psw=360&psh=2629&frm=0&cl=493016327&uio=-&cont=autors-container-0&jsid=csa&jsv=493016327&rurl=https%3A%2F%2Fcdn-af.feednews.com%2Fnews%2Fdetail%2F564d390a47be6e1bd916158eb36ff873%3Ffeatures%3D2114057%26country%3Dgh%26uid%3D08c1e53bf8ea5f4e83fb533f6407a12207298822%26like_count%3D1%26client%3Dmini%26language%3Den&adbw=master-1%3A318
On Tuesday, December 20, the NDC minority in parliament blocked GHC80 million for the National Cathedral project in the 2023 budget. This was a big blow to the project.