E-Levy: Minority forces Government to abandon proposal to remove Ghc100 Threshold
ghananewsonline.com.gh
Dec 22, 2022 2:22 AM
Although the government had proposed a reduction in the levy from the 1.5 percent to 1 percent, it had planned to remove the GHC 100 threshold which serves as a safety net for the poor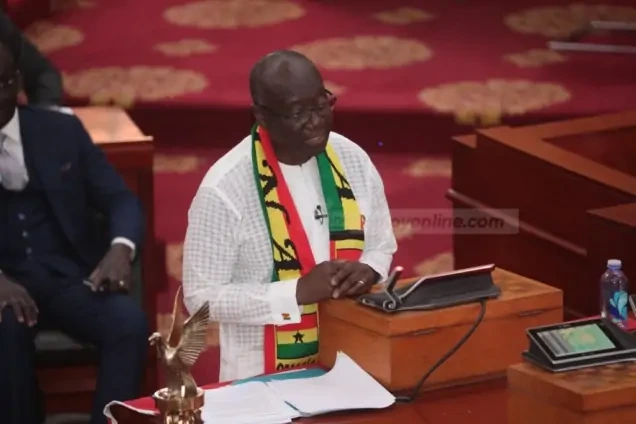 Minority group in Parliament has succeeded in forcing the Government to back down on its proposal to remove the GHC 100 threshold on the Electronic Transfer levy for the 2023 Financial year.
Although the government had proposed a reduction in the levy from the 1.5 percent to 1 percent, it had planned to remove the GHC 100 threshold which serves as a safety net for the poor and vulnerable in society who may be burdened by the levy.
Finance Minister, Ken Ofori Atta, in his presentation of the 2023 Budget to Parliament in November this year indicated that as part of measures to increase revenue for the year 2023, the Government has decided to remove the GHC 100 threshold for Mobile money transactions while the percentage of collection of the levy on every transaction would also be reduced.
https://www.google.com/afs/ads?psid=5134551505&channel=AutoRsVariant&fexp=44778204%2C21404%2C17300003&client=pub-1883810847636355&r=m&sct=ID%3D8d48dfc20b4fbbe2%3AT%3D1663995891%3AS%3DALNI_MYBQ_1mRlbaYMdncuO4-jaN5s_Fpg&sc_status=6&hl=en&type=3&rs_tt=c&oe=UTF-8&ie=UTF-8&format=r5&nocache=151671709999013&num=0&output=afd_ads&domain_name=cdn-af.feednews.com&v=3&bsl=10&pac=0&u_his=7&u_tz=0&dt=1671709999018&u_w=360&u_h=806&biw=360&bih=674&psw=360&psh=2460&frm=0&cl=493016327&uio=-&cont=autors-container-0&jsid=csa&jsv=493016327&rurl=https%3A%2F%2Fcdn-af.feednews.com%2Fnews%2Fdetail%2Fd1a9c1cc603e14caeb6aef0bb6790ffe%3Ffeatures%3D2114057%26country%3Dgh%26uid%3D08c1e53bf8ea5f4e83fb533f6407a12207298822%26like_count%3D3%26client%3Dmini%26language%3Den&adbw=master-1%3A318
On the floor of the House on Wednesday, the proposal was immediately objected to by the Minority Group in Parliament. They cited policy inconsistency and economic hardship as well as the abysmal performance of the levy in the 2022 Fiscal year as some of the reasons the proposal is untenable and that their side will not support the amendment.
Sensing the persistence of the Minority side to insist and not backdown on its demand for the total withdrawal of the proposal the government through the Deputy Minister of Finance, Abena Osei Asare changed its mind.
Source: Clement Akoloh||parliamentnews360.com
GOT A STORY? Share with us. Email: [email protected] or [email protected] WhatsApp: +233(0)244822034
Get real time updates directly on you device, subscribe now.
GOT A STORY? Share with us. Email: [email protected] or [email protected] WhatsApp: +233(0)244822034
SpyDa 6340 posts 3 comments