External debt situation exposes Ghana to vulture capitalists – Economist
ournaijanews.com
Dec 20, 2022 9:18 AM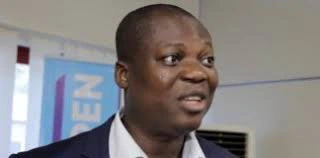 The Dean of the University of Cape Coast Business School, Prof. John Gatsi has warned that Ghana's external debt situation could expose the country to aggressive investors who may use all necessary means to demand their funds.
According to him, the current situation could attract vulture capitalists who may want to take advantage of the country's vulnerable state if a deal is not reached with the International Monetary Fund (IMF) on time.
He gave the warning after government announced plans to suspend interest payments of some government selected bonds including the Eurobonds. Prof. John Gatsi spoke to Joy Business.
"If the institutional investors who lend money to us are vulture funds then that can clearly metamorphosed into taking drastic and ruthless actions against Ghana including seizure of our assets across the world, our interests across the world", he said.
Prof. Gatsi is of the view that Ghana's position portrays a country that is in desperate needs to stabilize the economy.
This, he said could send signals to external investors to offload the debt to aggressive investors waiting to take advantage of the challenges faced by the country.
"Our creditors may decide to sell their debts to vulture funds for which the vulture funds will want to retrieve the money through whatever means available to them including seizure of assets across the world. This will include touching the interest of Ghana across the world. So that may happen", he stressed.
https://www.google.com/afs/ads?psid=5134551505&channel=AutoRsVariant&fexp=44778204%2C21404%2C17300003&client=pub-1883810847636355&r=m&sct=ID%3D8d48dfc20b4fbbe2%3AT%3D1663995891%3AS%3DALNI_MYBQ_1mRlbaYMdncuO4-jaN5s_Fpg&sc_status=6&hl=en&type=3&rs_tt=c&oe=UTF-8&ie=UTF-8&format=r5&nocache=1781671553619960&num=0&output=afd_ads&domain_name=cdn-af.feednews.com&v=3&bsl=10&pac=0&u_his=2&u_tz=0&dt=1671553619964&u_w=360&u_h=806&biw=360&bih=674&psw=360&psh=2932&frm=0&cl=493016327&uio=-&cont=autors-container-0&jsid=csa&jsv=493016327&rurl=https%3A%2F%2Fcdn-af.feednews.com%2Fnews%2Fdetail%2F34dfdd7da4d4a65f9a5f1913f1f18067%3Ffeatures%3D2114057%26country%3Dgh%26uid%3D08c1e53bf8ea5f4e83fb533f6407a12207298822%26like_count%3D1%26client%3Dmini%26language%3Den&adbw=master-1%3A318
He advised government to reverse the situation by working quickly with the IMF to secure a deal on time.
"This is why getting an IMF programme on time is very important at this time", he said.
DISCLAIMER: The Views, Comments, Opinions, Contributions and Statements made by Readers and Contributors on this platform do not necessarily represent the views or policy of Multimedia Group Limited.